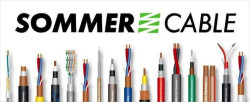 SOMMER CABLE Germany was founded in 1999 by classical musician and innovative entrepreneur Friedhelm Sommer and CEO/fellow musician Rainer Blanck.
Together with cable engineering leader Pascal Miguet, they built Sommer cable into a thriving development and manufacturing company with a catalog of over 12000 products for the A/V installation, pro-audio, broadcast, video, music, IT and HiFi market, with business partners in over 50 countries.
In 2015, SOMMER CABLE America Inc., a wholly owned subsidiary of SOMMER CABLE Germany, was established in Santa Rosa, CA by new CEO Martin Ucik. The company will supply the American markets with Sommers wide range of innovative and high quality cable, connector, stage, PA, hardware and Audio/Video installation and distribution products. SOMMER offers a 500+ page printed catalog, which is also available for download here –
Sommer develop, produce and sell first class quality cables and other high quality products for the cable market.
Sommer are fond of our customers and partners and take care of them in a humane, friendly, competent and uncomplicated manner
Sommer offer enduring use, value added quality, innovation and service to our customers, especially in reference to the competitive environment.
Sommer are loyal to our company, its employees and products and welcome the fact that work and learning can be fun and that success is enjoyable. We encourage and reward the efforts and motivation of our employees.
A slim organizational structure enables us to make fast decisions. We have visionary ideas and work economically to provide enduring job security with the required efficiency and liquidity.
Sommer are an IHK-training facility – more than 10% of all our employees are trainees. We demand and encourage continuous education.
Sommer feel responsible for the ecological system and take great efforts to preserve our planet's resources. (see: Our Environment)
Sommer Christian and social engagement is directed toward helping needy people. We currently support projects in Burkina Faso and Brazil, with direct personal contact to ensure that our support actually reaches those in need of help.